Volume and issues number gaps and summary
On the 'Ebay Auctions' and 'New auction lots' tabs there is an 'Issue gaps/summary' button:





This can be useful if you need to check if you have a particular issue of a comic, magazine or bookin a partilar range. It can also be useful for showing where there are gaps. For example, you make have a several auctions of a particular comic, for example, the Beano, and have loads of duplicates. You put them on Ebay individually, say numbers 500-600. When items sell, you want to add new auctions for ones you have already sold. Now you can look for gaps in the list.

To use, this then first select a 'Brand' or an 'Our group', for example, 'Beano' and then click the button.
The gaps and summaries below is for a range of comics. There are actually about 40 comics in that range, but we only have issues 1 to 25 on Ebay at the moment, so the screen detects that the first issue is 1 and the last 25 and then shows how many of each we have and the red lines are were we have gaps, i.e. we don't have any of that issue number for sale: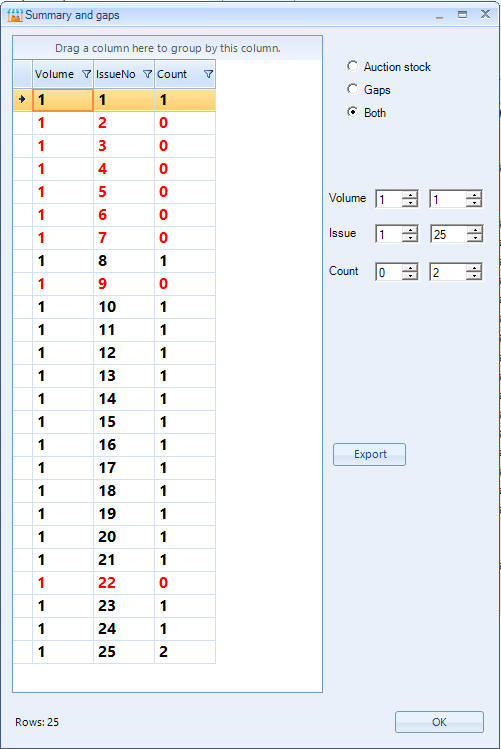 If you look in the picture above, Issue no 25 at the bottom has a count of 2, which means we have two of those currently in Ebay auctions for sale.
Other buttons and options
The Export button allows you to send the list to a spreadsheet.
You an alter the count button to only show items where you have say 2 or more. If you changed to 2 on the above example, there is only issue 25 with 2 issues: